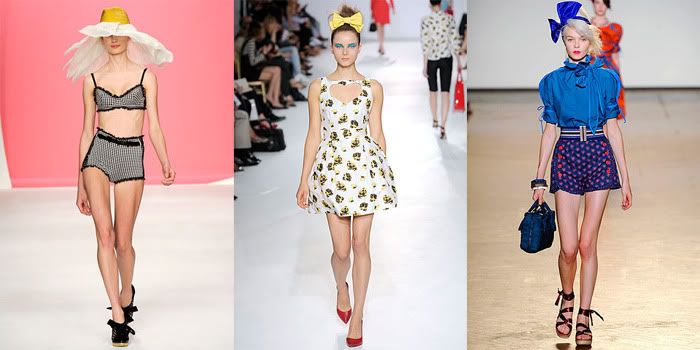 Moschino Cheap & Chic, Luella, Marc Jacobs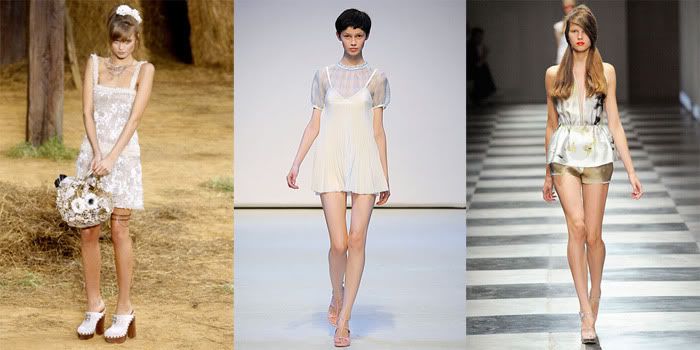 Chanel, Cristopher Cane, Prada
Peter Som, Alexander Wang, Betsey Johnson

image source:
http://www.style.com
I was on style.com a couple of hours back when I bumped into these gorgeous Lolita based designs! There were 16 designs being shown in total, these are my favourite ones. I love how the majority of the designs are so colour and pattern based. I've always love colours and patterns for as long as I can remember, I just go oogo ga ga over them.
The Moschino Cheap & Chic design is the perfect wear for a day out in the beach. I think the daisy looking floppy hat is a genius. I can imagine other kind of flower hats. A sunflower floppy hat? Yumness! To be honest I like the 1950s kind of swimwear in comparison to what we have right now. I fell in love with the Luella design instantly! How gorgeous is it! Everything about it is perfect, even the make up and the model. I need to have that dress in my closet! I hope Topshop has a similar design for their next season.
I've been helping out in the infant school, and I'm loving it! All of the kids are so sweet, they say and do the most funniest things ever. I'm going to miss it when I go back to Melbourne at the end of this month. I'm sort of dreading going back there, since its summer right now in Melbourne! If only it was the nice 24/25 degrees summer..
Hows your side of the world? Oh btw, my friend sent me this song by Adhitia Sofyan called Adelaide Sky, and its just lovely! His voice is the perfect voice to be listening to on a rainy day.